Digestive Health
Brain Health
Immunity Natural Defences
Give your growing friend the best start in life with a diet that's tailored to their needs. Nutrient-rich, gluten free and artificial-free wholegrains keep them happy and healthy, while quality minerals, fibres and proteins support healthy bone and joint development.
Our Price:
$40.95
Regular price
RRP $48.00
Unit price
per
Sale
Sold out
$13.65/kg
Details
Ingredients + nutrient analysis
Reviews
Shipping and Returns
Subscriptions
Description
ADVANCE™ products are scientifically formulated to help improve dog health. Made locally from our home in the Central Tablelands of NSW by leading dog nutritionists for over 20 years.
A unique knowledge of the needs of Australian dogs sees us sourcing and blending high quality ingredients to create a range of specifically tailored foods. Recommended by top breeders and professional dog groups.
Key Benefits
NATURAL COLOSTRUM
Helps defend against digestive upsets

OMEGA 3 DHA & CHOLINE
Support healthy vision and brain development
OMEGA 3 and 6 PLUS ZINC
Enhanced levels of natural Omega 3 and Omega 6 fatty acids support a healthy skin and coat and help reduce coat scale. Other nutrients including high quality protein, Zinc & Vitamin A further supports skin and coat health
ANTIOXIDANT VITAMIN E
Helps support a dog's natural defences
SUITABLE FOR PREGNANCY/ LACTATION
Nutrient dense and highly digestible to support the demanding life stage of pregnancy/ lactation
FERMENTABLE PREBIOTIC FIBRE
Supports digestion and a healthy gut microbiome
NO ARTIFICIAL
Colours & flavours
NO ADDED
Wheat, whole corn, soy & beef
AUSTRALIAN MADE

Ingredients
Chicken Meal, Rice, Maize Gluten, Chicken Fat, Sorghum, Dried Beet Pulp, Natural Flavour (Chicken), Sunflower Oil, Turkey Meal, Minerals, Salt, Inulin, Vitamins, Fish Oil, Colostrum, Antioxidants.
Nutritional information
| | | |
| --- | --- | --- |
| | Per 100 g | Per 1000 kcal |
| Protein, crude | 31.5 % | 79.7 g |
| Fat, crude | 21 % | 53.2 g |
| Moisture | 8.5 % | 21.5 g |
| Ash | 9.0 % | 22.8 g |
| Calcium | 1.5 % | 3.8 g |
| Phosphorus | 1.1 % | 2.8 g |
| DHA (min.) | 0.03 g | 0.08 g |
| Choline (min.) | 154.4 mg | 391 mg |
| Vitamin E (min.) | 50 IU | 126 IU |
| Zinc (min.) | 11.4 mg | 28.8 mg |
| Linoleic Acid (min.) | 1.5 g | 3.8 g |
| Omega 3 (min.) | 0.12 g | 0.30 g |
| Omega 6 (min.) | 1.5 g | 3.8 g |
| Average Metabolisable Energy 395 kcals/100 g. | |   |
Reviews
97%
would recommend this product
Advance dry food

Used this for years for happy and healthy puppies.

I have 3 dogs , aged 6 months, 15 months and 3 years

Revoew

The biscuit size is great and I even feed to some of my dogs that are older than puppy

Medium puppy chicken and rice

Very happy with this puppy food.

Annette G.

Verified Buyer

Pleased with the changes in my youngsters in just a few weeks

This product was chosen for my 8 month old pedigree ACDS. (Two pups) who have previously been fed with another well known product. The change in both the young dogs was noticeable within weeks. They lost their podgy soft bodies. Coats improved, muscle improved and nothing was left half eaten as was the case with their previous dry food. Very happy. I would recommend.

Puppies

Puppies love this best food for growing children
Reviews Loaded
Reviews Added
Shipping & Returns
How much does shipping cost?
Great news: it's free when you spend over $49. For orders below $49, the shipping fee will be $10.99.
How long does shipping take?
We ship all orders from our warehouse in Dandenong South, VIC. When your order has been dispatched from the warehouse and is on its way you will receive a tracking text from the courier to find an estimated arrival time for your order. If you have any concerns please Contact Us.
Where is my order?
When you place an order you will promptly receive a confirmation email from ADVANCE™. When your order is packed and ready to be sent, you will receive an email or text with your tracking number from our Courier Delivery Service that you can use to track your order on its journey to your doorstep.

Please ensure you check your junk email for these emails if you cant see them in your inbox.
If you find that you're unhappy with an item you've purchased from us, we have a hassle-free returns policy as well as a dedicated support team to make everything right for you. Simply contact us and we will contact you within 2 business days. Please note that no credits or refunds can be given without first speaking to a ADVANCE™ representative.

Please include your order number, detailed description and images with your return request.
Where can ADVANCE deliver my order?
We ship to residential homes all over Australia! That said, sometimes our couriers cannot offer door to door delivery for more remote areas - in this case, your goods will be left at the nearest local collection point for safekeeping until you're ready to pick them up, or you can opt to have us deliver your items without signature if you wont be home at estimated delivery time

We are also happy to deliver to your workplace: just make sure you include your business name to make sure your order arrives promptly. We unfortunately do not ship to PO boxes.
Do you deliver outside of Australia?
We do not currently ship outside of Australia.
Are you able to deliver to PO boxes?
We unfortunately do not ship to PO boxes.
Where are ADVANCE Orders shipped from?
All orders are shipped from our warehouse in Dandenong South, VIC directly to you.
At what time of day will my order be delivered?
There is no standard time of the day that your order will be delivered. When you place an order, you can leave clear instructions on where the package should be left if you are not home, as we give our couriers "authority to leave".
Why is my delivery split in multiple boxes?
We may have split our products up into different packages depending on the type and size of the products. You may get multiple boxes in your order, and on the odd occasion these might arrive on different days depending on when they are dispatched.
Subscribe and unlock benefits
Flexibility
Not sure how often you'll need pet food? That's OK! You can always adjust the timings of your delivery in the subscription portal.
Reminders
As a courtesy reminder, we'll email you 3 days before each shipment. Don't worry, we'll only bill you when your order actually ships.
Easy order changes
Your order is fully flexible! That means you can add to it, skip it, delay it or cancel it at any time by logging into your account.
View full details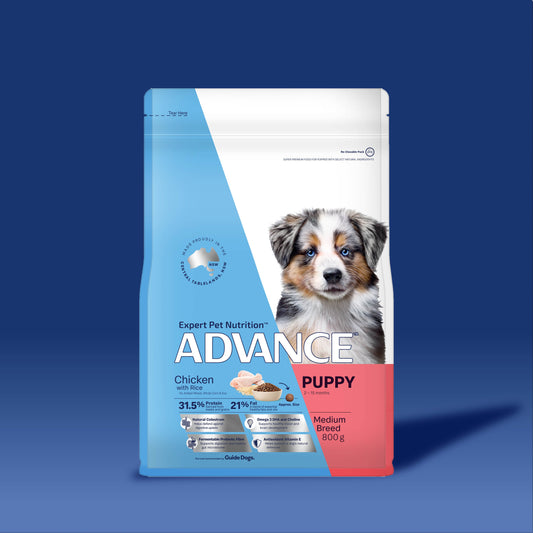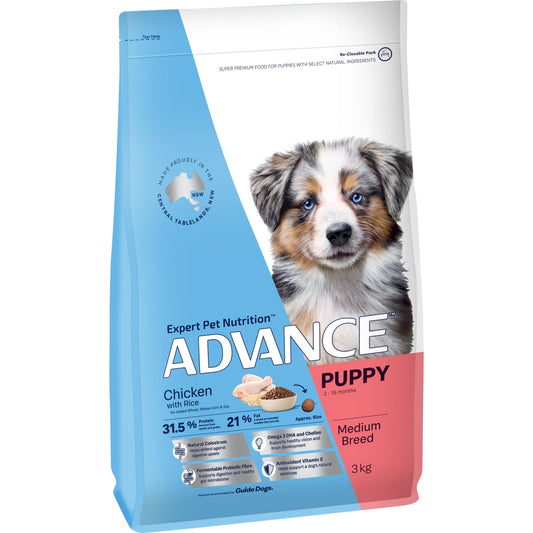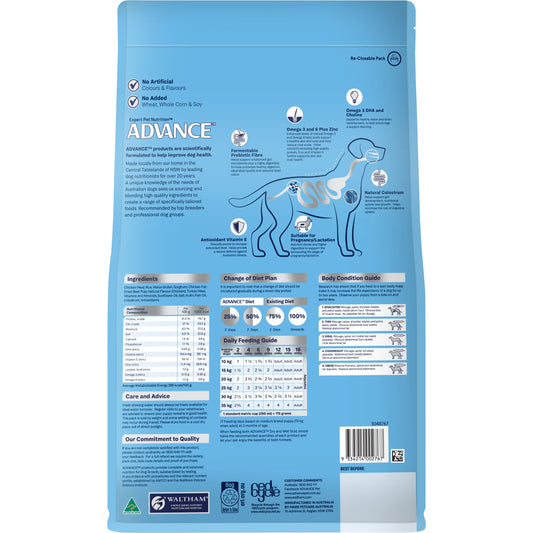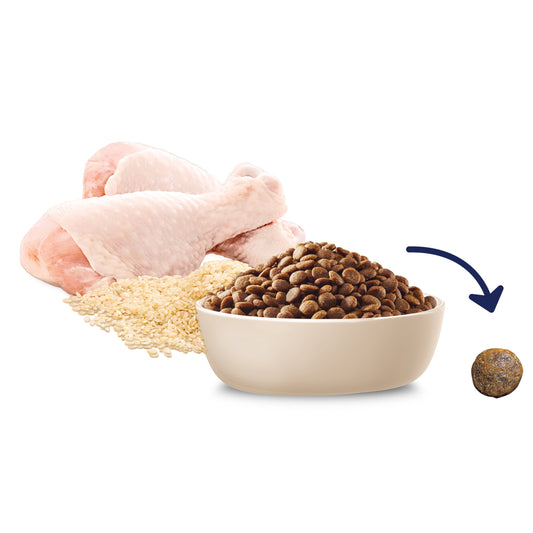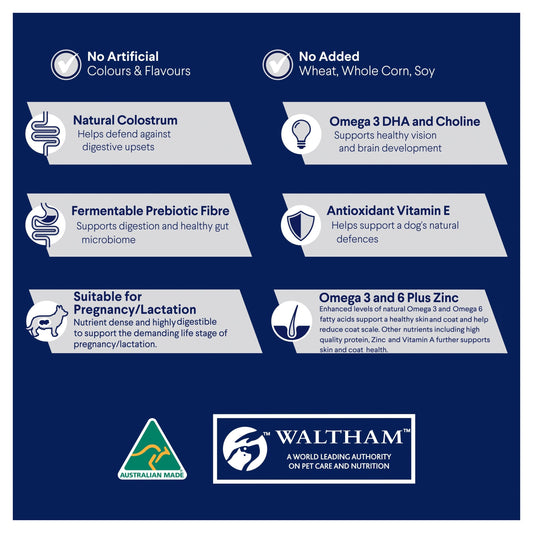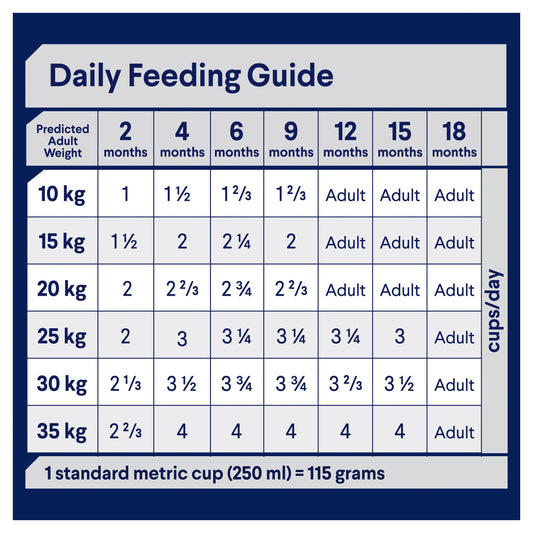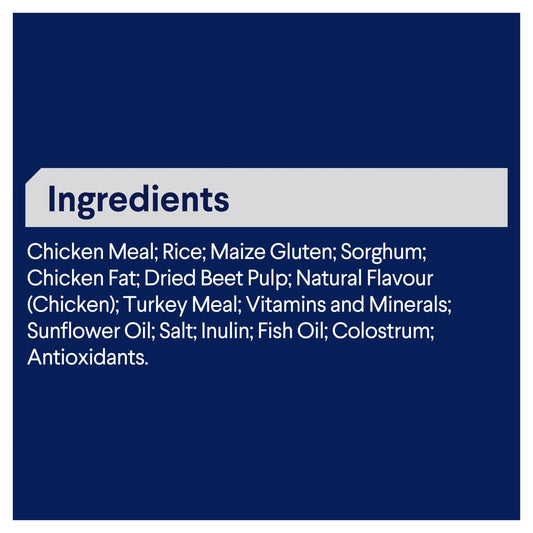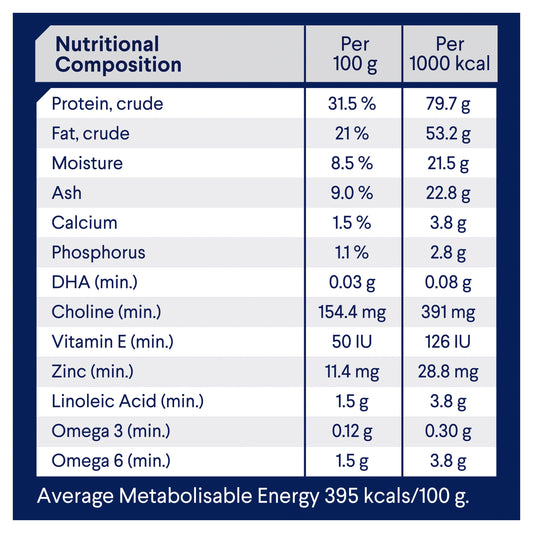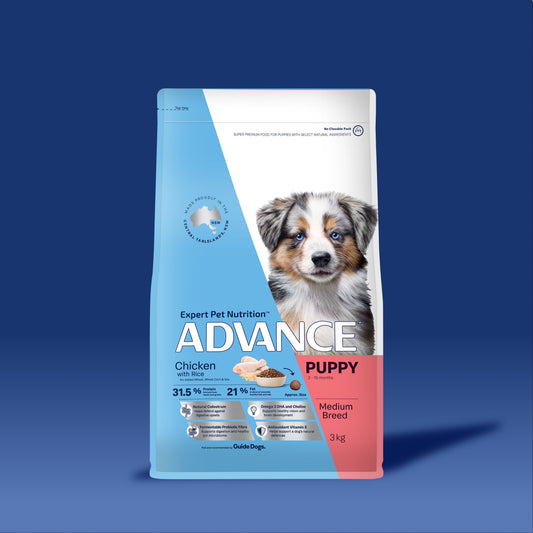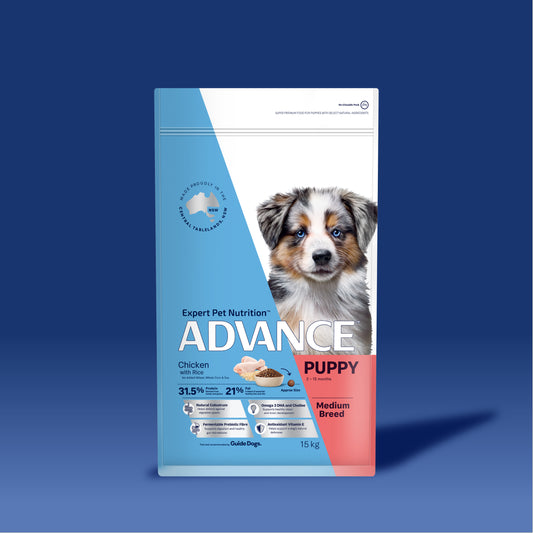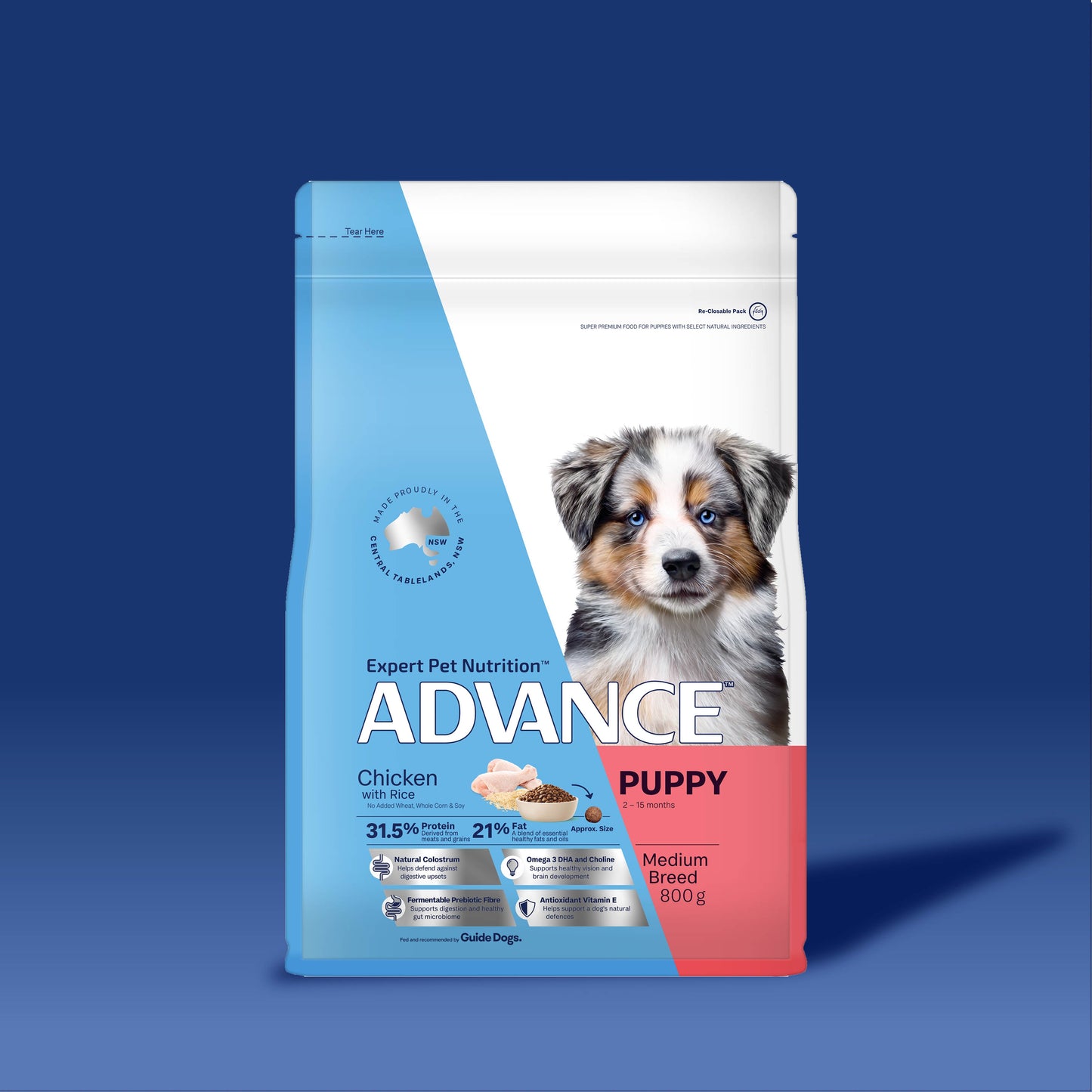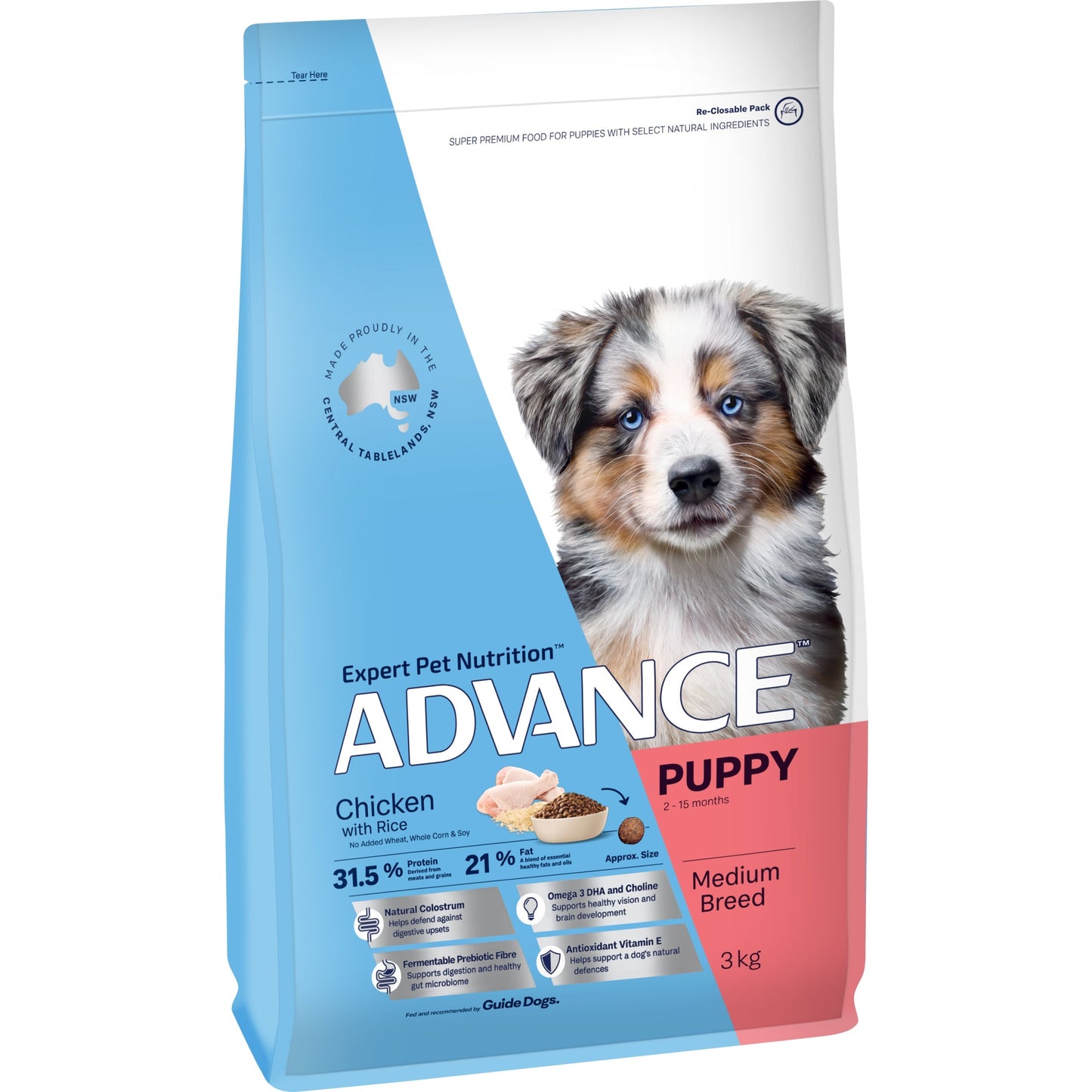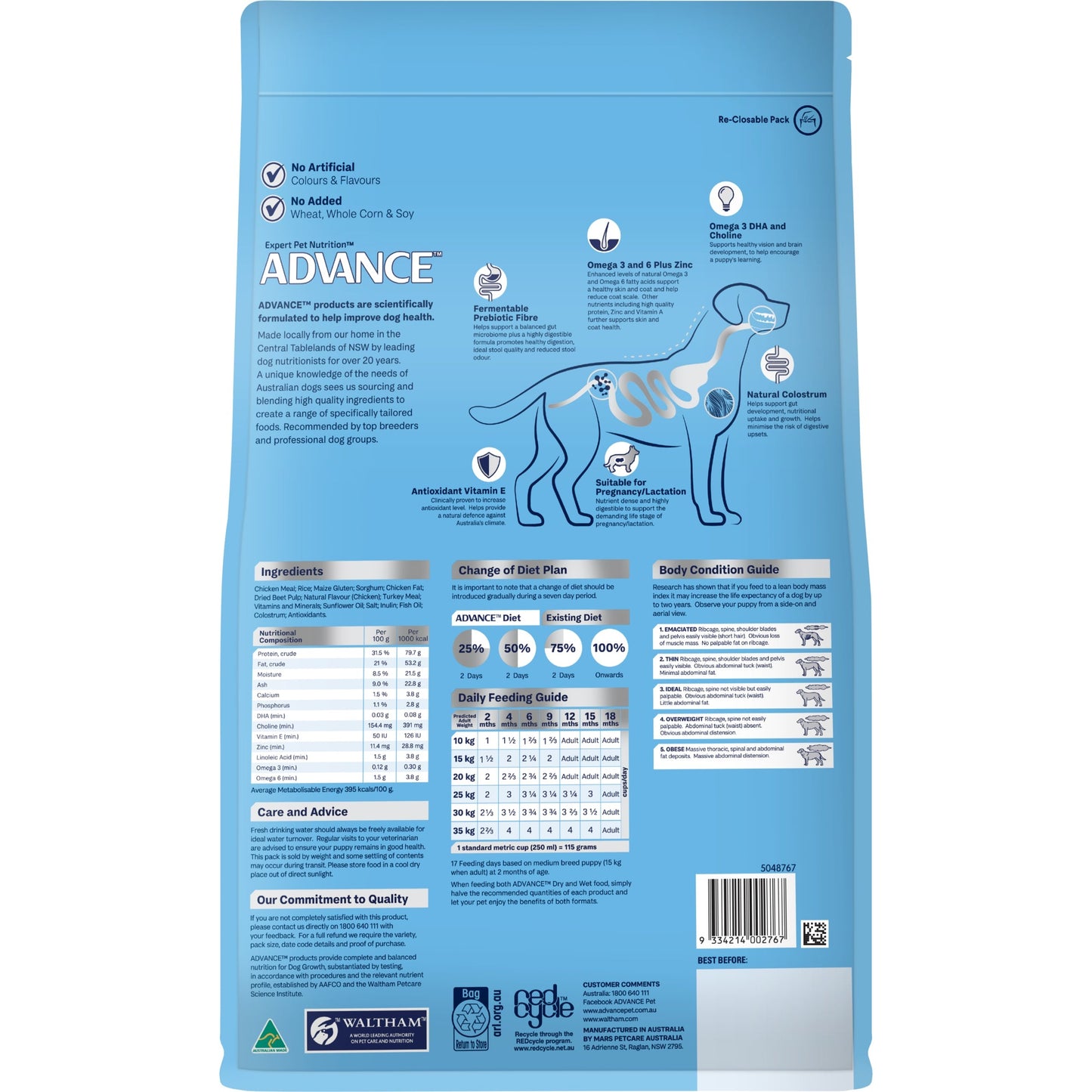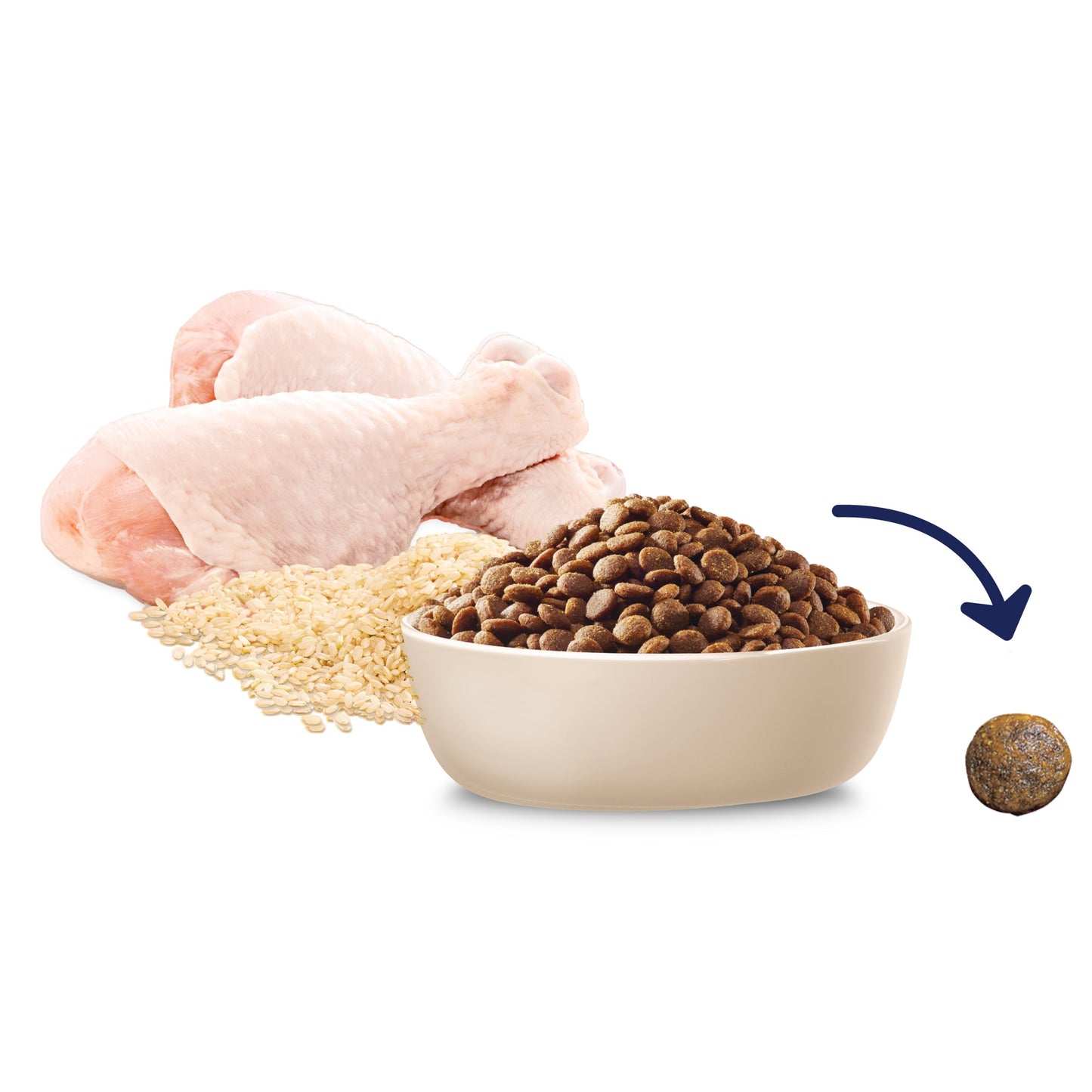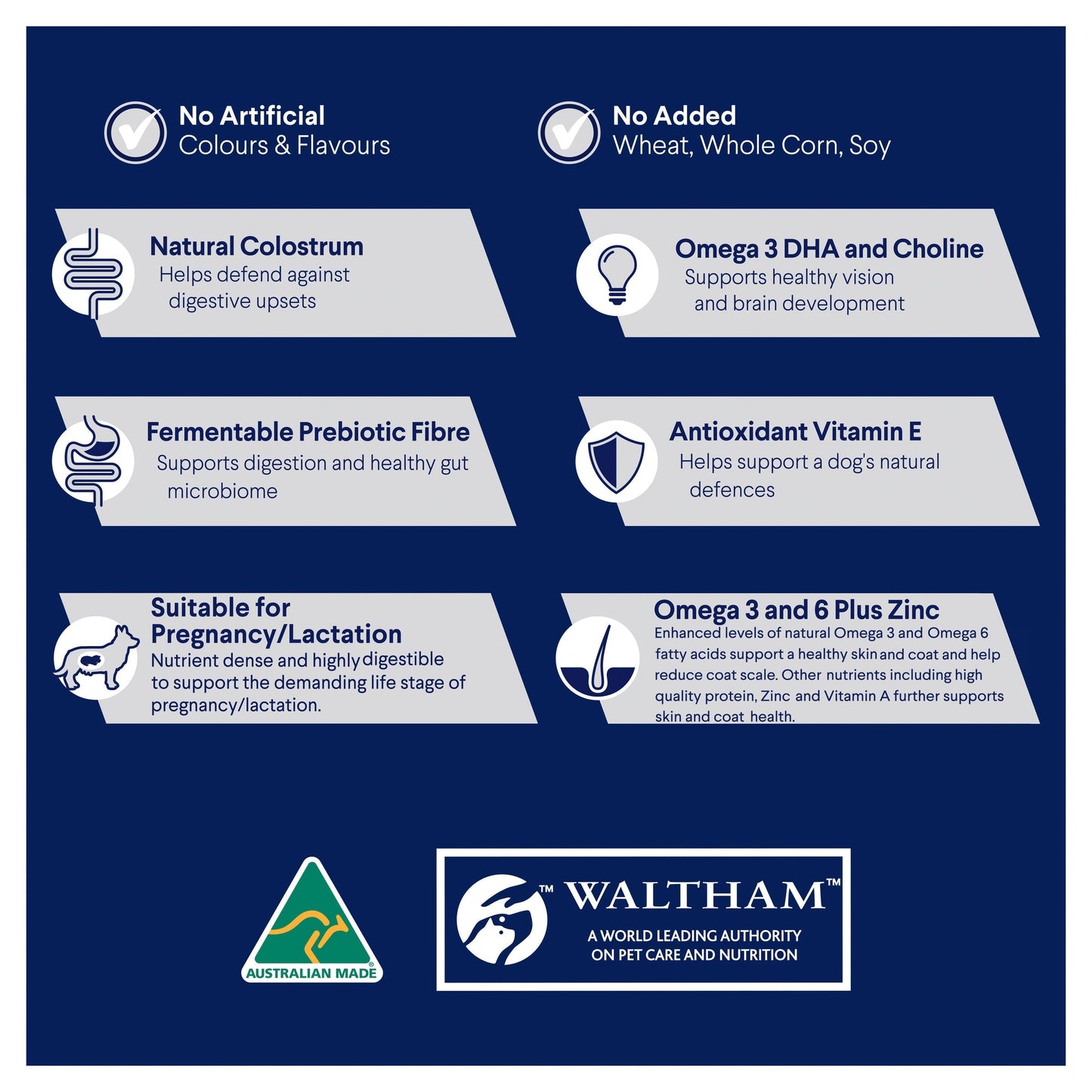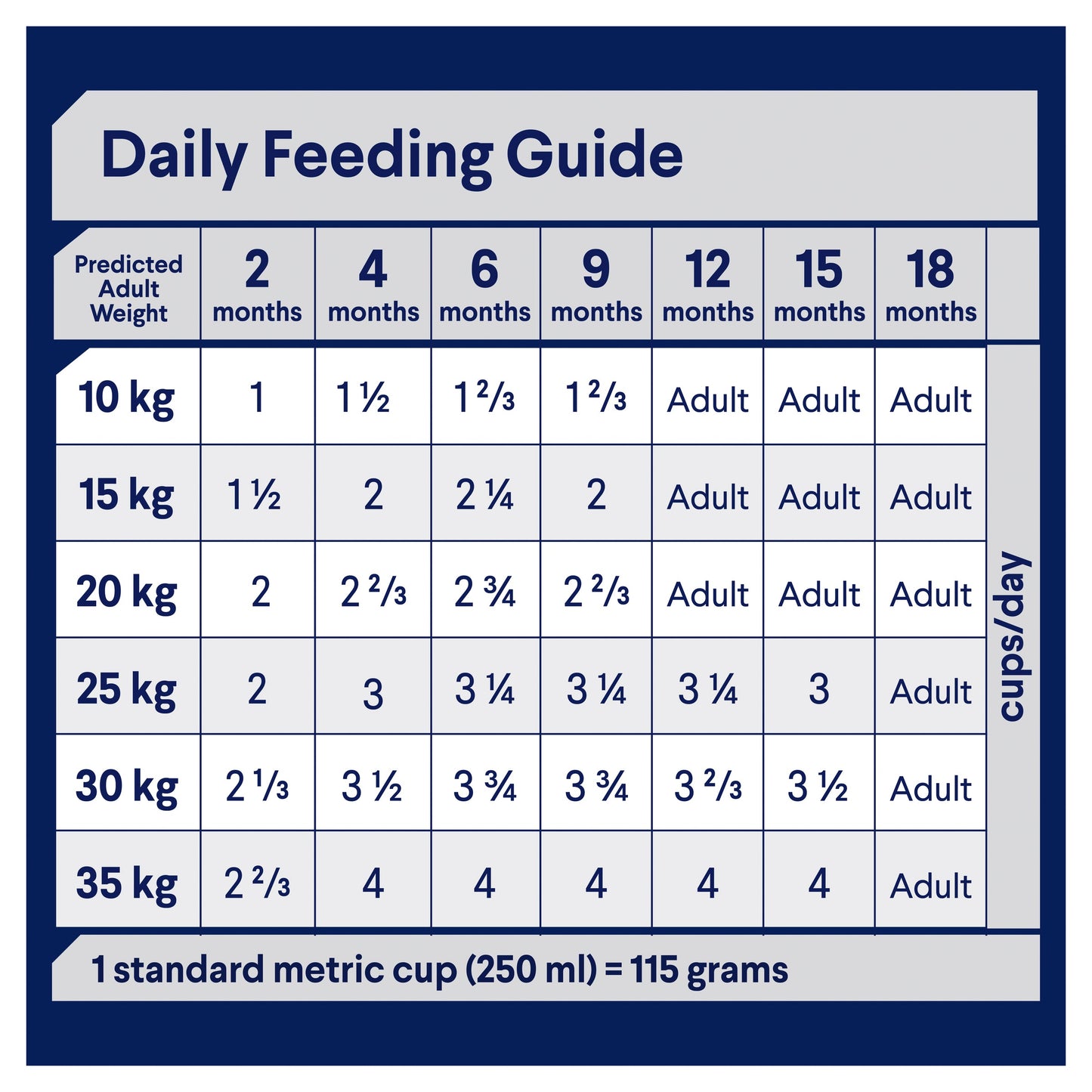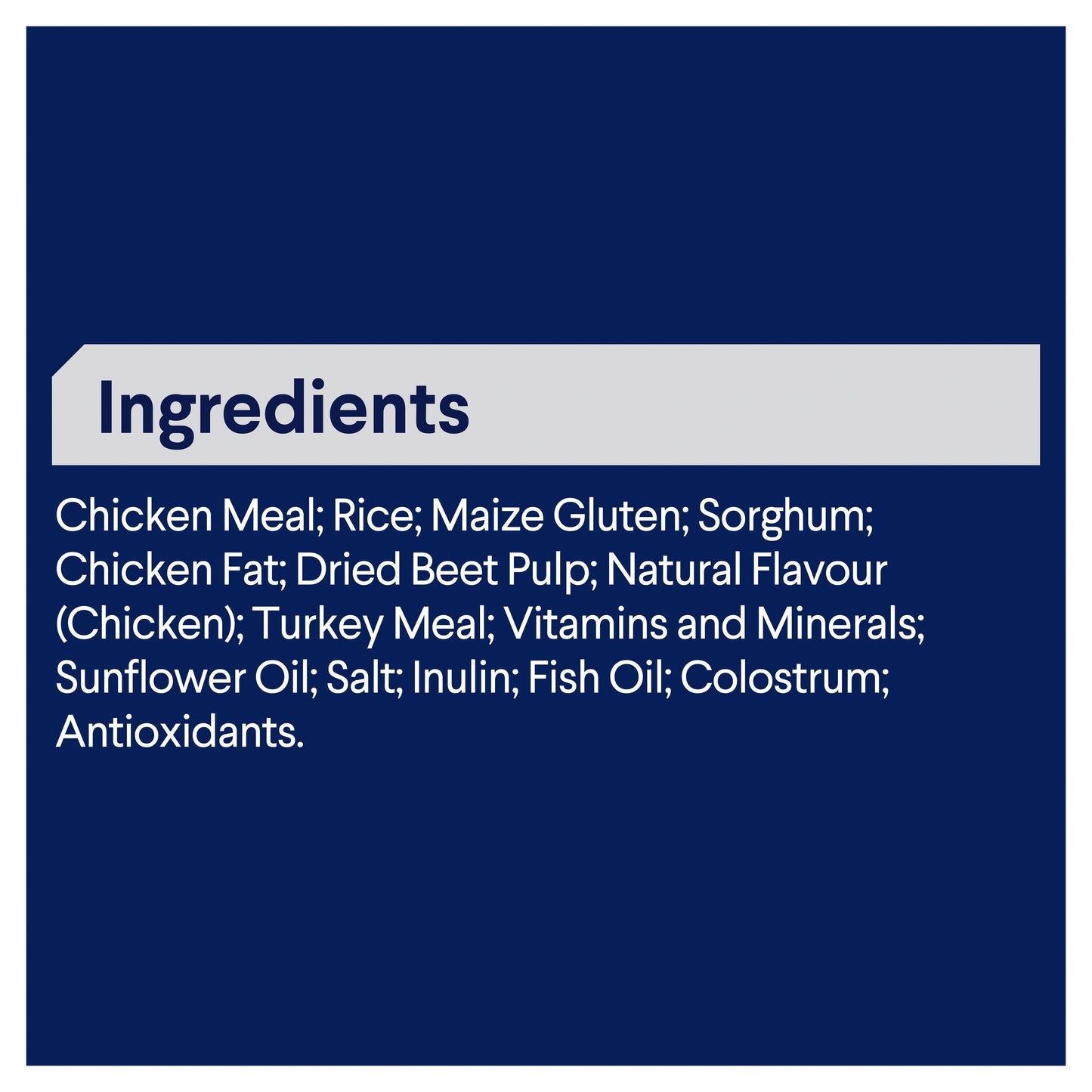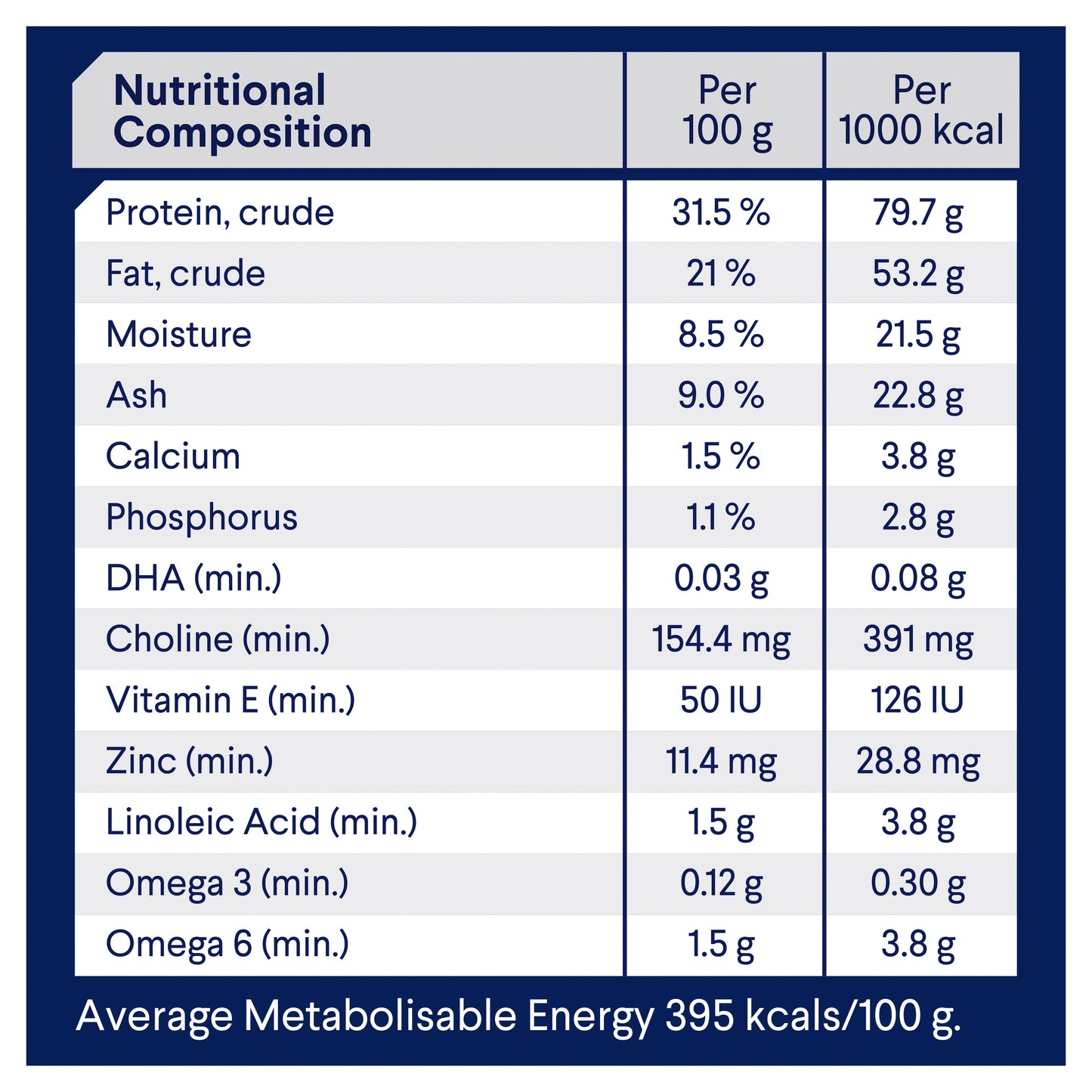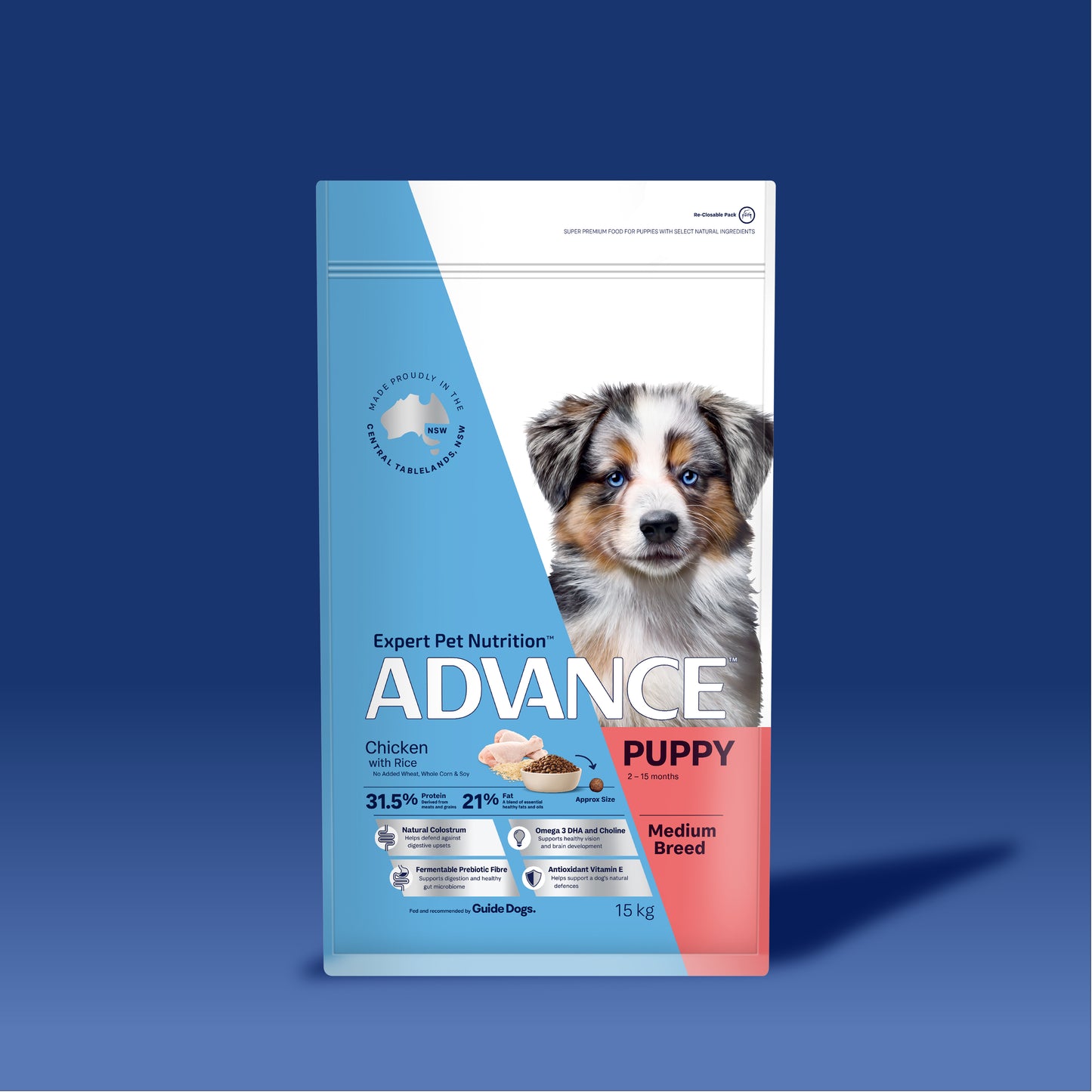 Frequently Bought Together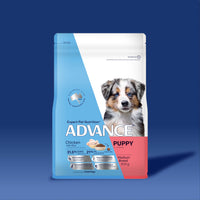 ADVANCE™ Puppy Medium Breed Chicken with Rice
Powerful ingredients for dog health
Natural Colostrum
Colostrum is rich in growth factors, immune factors and immunoglobulins. Given in the diet, these nutrients have been demonstrated to have local effects on the gut lining, providing protection and aiding gut development. Colostrum also helps support a healthy gut microbiome.
Omega 3 DHA
DHA is one of the primary fats found in the brain, eyes and nerves, required for normal brain and nervous system development. It also helps support skin and coat condition as well as joint health.
Antioxidant Vitamin E
Vitamin E helps to protect the cell from the action of free radicals. Free radicals are produced by cells through normal metabolism and as a result of external factors, and can consequently contribute to the ageing process and cell death. Vitamin E helps support a pet's immune health.
Loved by pets and their parents
Justine B
Good health and fitness starts on the inside, we won't feed anything else.
Nicole S
ADVANCE™ has proven that it is the best out there for our fur babies.
Ann & Dennis O
We started using ADVANCE™ back in 2006. It has most certainly improved the overall coat, condition and wellness of our dogs.
Sylvia S
My Lab puppies love it and it is good value.
Mark Y
We just love this product and have been using ADVANCE™ puppy for many years.
Judith B
I'm happy knowing they get all their needs from ADVANCE™ puppy food. I know they love it because they clean their bowls without looking up, and I don't need to worry about adding vitamins, minerals etc.
Shellie M
My puppies absolutely love this food. Not only is it tasty, their condition is incredible. I love that every time I put the food down they eat it so happily. Great product.
Philippa
Provides all the nutrition a dog needs. High quality product that our dogs love.
Rosemary
Pleased to see no artificial colours or flavours in the product, and also that the product is made in Australia.
Paula
I like that it's nutritionally balanced and that my dog didn't have any hesitation eating it when we first offered to him.
Subscribe and save 5%

ADVANCE™ Puppy Medium Breed Chicken with Rice

ADVANCE™ Puppy Medium Breed Chicken with Rice

ADVANCE™ Puppy Medium Breed Chicken with Rice
Deliver every:
subscription benefits
Exclusive member savings
30 days money back guarantee
Easy Cancellation, Anytime